A solenoid valve is a part used to open and close the coolant valve. A programmer will allow, in a fully automated way, to switch on or off the water supply.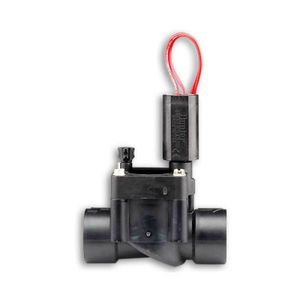 To simplify, it is nothing more or less than an electric tap used for automatic sprinkler systems.
The solenoid valve, in addition to this automation aspect, makes it possible to differentiate watering zones for an individual supply, really adapted to the water needs of each zone.
Thus, your solenoid valve will allow you to water the vegetable garden from 2 a.m. to 3 a.m., for example, in a gentle drip manner while a rotating jet will generously and roughly water your lawn from 10 p.m.
The solenoid valves will be located on the surface (in your garage for example) or buried in a manhole. Everything will depend on the type of facility you wish to own.
A wireless remote control water valve is not an expensive material, for about fifty euros you will have a quality material. Of course, each watering channel requires a separate solenoid valve. Large lots are thus equipped with several.
Operation of a solenoid valve
Few people are familiar with solenoid valves, their principle and how they work. However, they are most often the essential vector of good underground watering.
A solenoid valve opens and closes according to the commands it receives from the wireless remote control and is positioned at the start of each network.
The solenoid valves work in 24 Volts, their supply is made by means of two electric cables. One is connected to the programmer, the other is called "common" and is connected to the other "common" (if there are other solenoid valves), then to the neutral of the programmer (most often marked "common 1″).
In the closed position, water passes through the calibrated orifice and fills the upper chamber. The diaphragm surface being large and made of a flexible material, it is placed on the diaphragm seat keeping the valve closed.
To open the solenoid valve, it is necessary that the solenoid receives an electric current, this will create a magnetic field which will raise the plunger core. In this way, water will flow through the discharge port. The water in the upper chamber is drained and the pressure drops.
The water from the network contained upstream of the solenoid valve can thus compress the diaphragm spring and allow the water to pass through.
The solenoid valve will remain open as long as the solenoid remains powered. When the programmer cuts the power supply, the solenoid core is released, coming from the discharge port, the water fills the upper chamber again and closes the valve.
Most solenoid valves can be operated manually. This principle is based on a purge that releases the water, the pressure decreases, the diaphragm lifts and the water circulates.